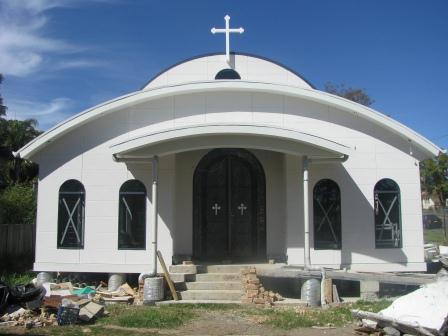 On 28 March 2009, with God's Grace, St's Michael and Gabriel Orthodox Church were fortunate to be able to purchase the new property located at 72 Belmore Street, Ryde at auction.
With a strong reliance on persons within and outside of the parish who donated their time and talents, the new church was designed. With support within the wider local community and Ryde Council, planning approval was achieved and SMG's dream of a church was quickly becoming a reality.
With the help of volunteers and donors, construction of the new Church building commenced in May 2011 and gathered momentum with volunteers, tradesmen, donors and others trying to help the best way they can to assist with the construction effort.
To date, with the hard work and perseverance of all persons involved, the parish has moved into the new Church building, having celebrated our very first Liturgical service on Christmas eve 2012. The parish house has also been refurbished and is used as the parish headquarters with Church School, Youth activities, parish meetings and fellowship activities being held regularly.
At this stage of the journey the exterior of the Church has been beautifully finished but remaining construction works include;
Internal fit-out of the church including Iconostasis, icons and pews,
Landscaping and other external ground works including a community garden.
On behalf of Rev. Fr Michal Zghaib and the Parish of St's Michael & Gabriel Orthodox Church, we would like to take this opportunity to thank His Eminence, Metropolitan Archbishop Paul Saliba for his continued support and guidance. We would also like to thank Tony Jabbour, the Building Committee and all our extremely generous donors, contributors and helpers for their continued support. It has been with your time and efforts that our vision has become a reality.
There is still much work to be done and any assistance you may be able to provide whether it be in the form of financial assistance, your time or talents are welcomed by SMG. Please contact Fr Michal or one of our building committee members.
YOU CAN MAKE A TAX DEDUCTIBLE DONATION TO THE ST'S MICHAEL & GABRIEL BUILDING FUND
Donations $2 and above made to the Sts Michael & Gabriel building fund are tax deductible and you will receive an official tax receipt.
If you would like to further support the building of our new Church by making a tax deductible donation, please contact either Fr Michal Zghaib on parishpriest@smg.org.au or 0403 847 690 or our Treasurer, Marisa Gazaleh on treasurer@smg.org.au
Thank you for your generous support!